This press release is submitted and shown here in its original form, unedited by Countryliving.com.
Even though Houston, Texas, is known for its sprawl, when you're a seventh- generation Houstonian like Courtney Robertson, you need more land—for parties, holidays, family reunions, skeet shoots—than big-city limits will allow. So, six years ago, the residential real estate agent, wife, and mom to eighth-generation Texans Ellie (8) and Robbie (10) began her hunt for a large plot of land in the teensy town of Bellville (population 4,236), located a "weekend doable" 90 minutes away. "I knew if I bought land any farther, no one would bother leaving home to use it," says Courtney. After looking at plenty of no-gos—think properties littered with oil rigs and power lines—she and husband James finally laid eyes on 120 lush acres with built-in trails, a perch-stocked lake, and ample room to build a farmhouse (okay, family compound) that could comfortably sleep 27 (!), yet feel casual and welcoming enough to foster familial bonding. "We didn't want the scale to make things stuffy. It's about having fun," says Courtney.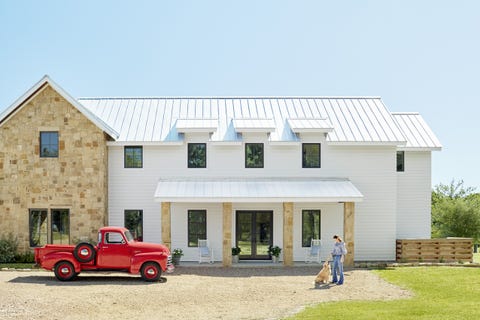 Nothing says "Guests are here!" like the telltale crunch of tires—here, a 1950 Chevy pickup—on a river gravel drive. Courtney and golden retriever Cash await the cavalcade of family and friends in front of her farmhouse—a mix of Austin stone, aluminum, and fiber cement siding.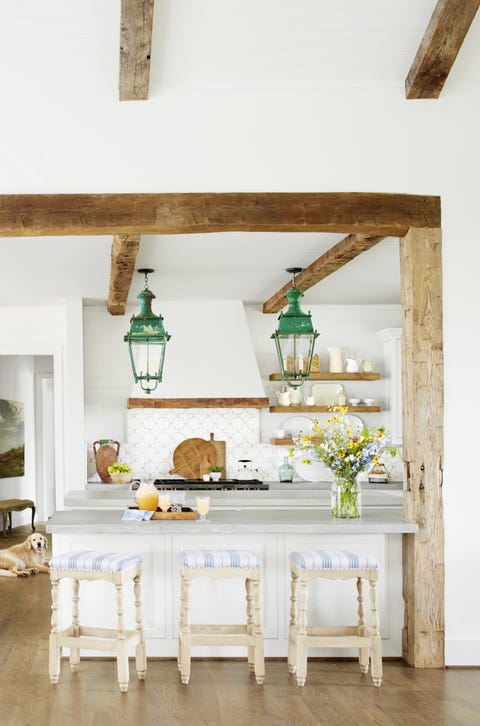 Courtney and designer Ashley Goforth artfully outfitted the frequent gathering spot with materials that are pretty but not precious. For example, soft gray concrete countertops pair well with limed oak barstools upholstered in an indoor-outdoor fabric. (For similar, try "Ticking Indigo" by Bella Dura). Reclaimed beams and a ceramic tile backsplash add to the room's sit-and-stay-awhile appeal.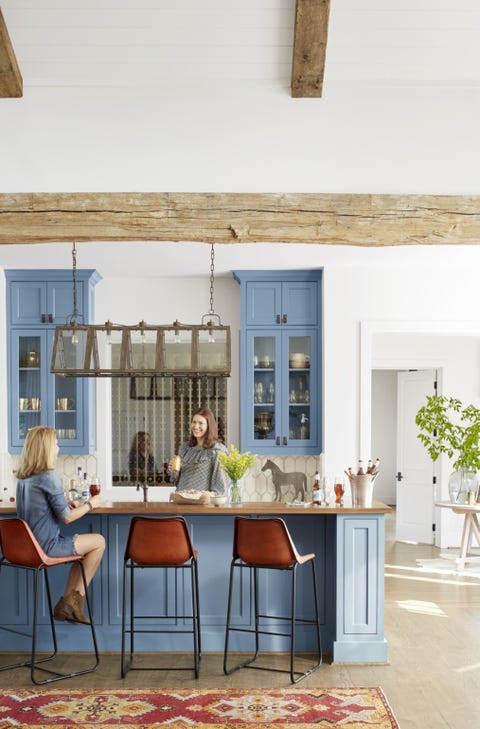 Courtney mixes cocktails at a bar surrounded by leather-and-metal barstools from CB2 and an iron chandelier.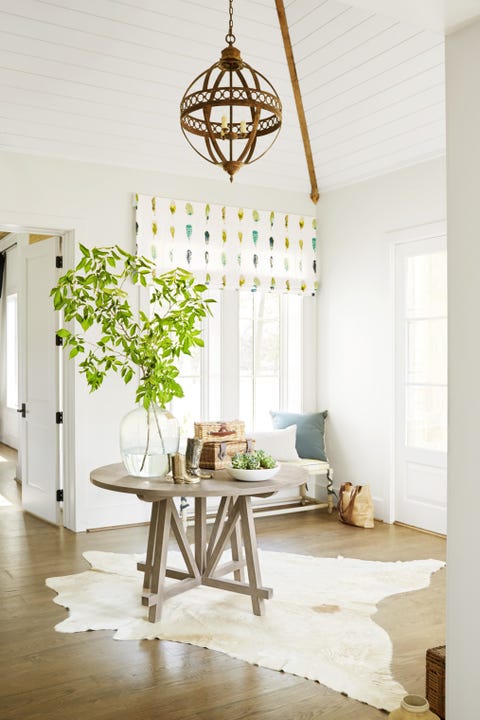 After guests are greeted with the requisite "howdy," they enter the airy, light-drenched entry featuring a vaulted tongue-and-groove ceiling. The iron chandelier and vintage hide reinforce the Lone Star State look, while an antique bench gives visitors a spot to literally kick off their boots. Hand-picked greenery adds a casual organic touch to a poplar table.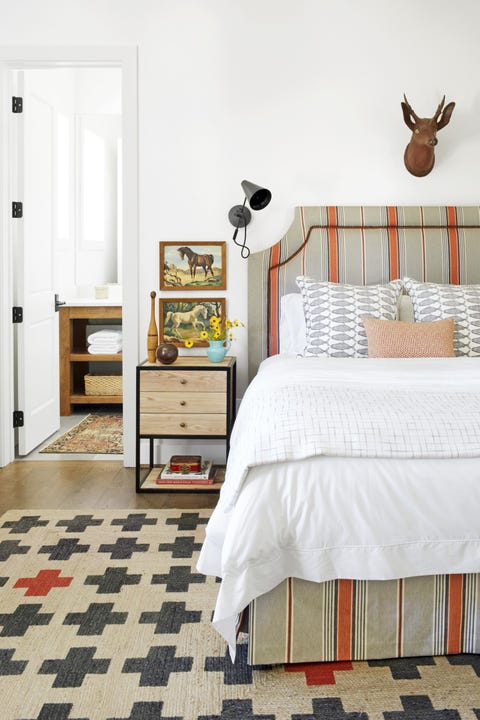 In a nod to the many fish and deer that populate the property, Courtney added "School O' Fish" pillows and a faux deer trophy to the guest room, along with sophisticated stripes ("Ruben Henna" by Romo on the custom headboard and dust ruffle) and a graphic Swiss cross area rug from CB2.